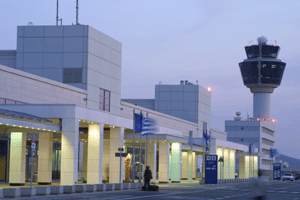 Venizelos Airport
Europe's newest international airport, "Eleftherios Venizelos" is up and running, amid much publicity and fanfare. The media blitz is accurate. Administrators and politicians alike deserve much praise, for the facility even outdoes similar airports in the U.S. In an independent study of 15 European airports, Athens International Airport ranked first as the best "tourist" airport in Europe, earning an international award in July.
Located 17-km northwest of downtown Athens in the suburb of Spata, the site serves as a national and southeastern European hub, hosting more than 13 million passengers yearly. Nearly 60 scheduled airlines operate at Venizelos Airport. Growth in the first half of 2001 far exceeded the European average. Domestic and international markets have been strong, with international travelers reaching a record 8 million. Airport officials have projected continued increases, especially with the approach of the 2004 Olympic Games in Athens.
The new airport is open round-the-clock, is as user-friendly as the advertisements state, and utilizes the latest, state-of-the-art equipment and technology. Refueling and cargo handling processes have been updated. Air-conditioning and heating have been installed. Planners created a dual, independent-runway system to minimize air traffic congestion and a special meteorological station on site. The airport has its own waste treatment plant and groundwater monitoring system. Environmentalists will be pleased to learn that great care has been taken to ensure as little impact as possible upon the environment, with controls and safeguards for noise levels and pollutants. Venizelos Airport even
has an aviary control program to reduce "the Bird Strike hazard." And more than 2 million trees were planted in the surrounding area.
Important changes and modifications have been made to security measures, bringing the Venizelos facility at Spata in line with other major facilities worldwide. An estimated 700 staff provide security services, both private and Hellenic police. Administrators report that there is an emphasis placed upon training and the use of technology to assist in screening. The security staff maintains close relations and cooperates with the Hellenic Civil Aviation Authority, Hellenic Police, European Aviation Security Training Institute, and the U.S. Federal Aviation Administration. More than 30 passenger and hand baggage screening check points have been created, with x-ray machines, archway and hand-held metal detection systems installed to assist staff and passengers. Likewise, security measures for hold baggage have been updated: baggage undergoes three levels of screening.
Travelers will be reassured to learn that additional security measures have been implemented in the wake of the September 11 terrorist plane crashes in New York and Washington, D.C. Airport authorities are asking passengers to appear four hours before international flights; persons arriving less than one-half hour before their scheduled departure are being turned away. Airport personnel are manually searching all hand luggage and removing sharp objects. In addition, police patrols have been "significantly increased" around the entire grounds of the facility and extra staff have been brought in to operate monitoring systems.
The entire facility occupies approximately 16 square kilometers, with the main terminal building, the satellite building, control tower, and the two independent parallel runways taking up the largest
portion of the space. Several ancillary buildings--fire and rescue, police, ground handling, airline maintenance, taxiway bridges, cargo, catering, and airmail services--round out the structures of the airport.
The Athens International Airport SA company has been responsible for all aspects of the project, from design to implementation. It is owned by the Greek State, its major shareholder, and by a private, international business consortium led by Hochtief. As part of its overall business plan, one goal of the company has been to create an airport business community. AIA has realized this goal, housing or creating an infrastructure for more than 200 Greek and international companies and 14,000 employees. About 90 of these companies specialize in providing services for airlines or passengers, according to airport officials. More than 30 smart, modern, Greek and international retail shops fill the inner corridors of the main terminal; a number of restaurants and cafes occupy strategic spots among the retail stores.
Travelers will notice with pleasure the smooth check-in procedures at 144 modernized counters and 44 transfer flight desks. Baggage handling has been updated and fully automated, with 11 baggage reclaim belts. Conspicuously rare are the transfer buses that carried passengers to waiting planes. Replacing them are 24 new passenger boarding bridges whose appearance and ease surpass those of comparable US facilities. There are information kiosks staffed by multilingual agents and at-large staff wearing "May I help you" badges to assist passengers. Flight information display boards and screens punctuate the corridors and waiting areas. Spacious departure waiting areas and modernized lounges for first and business class passengers and VIPs add to the ease of passengers. Other conveniences and services await travelers at the fa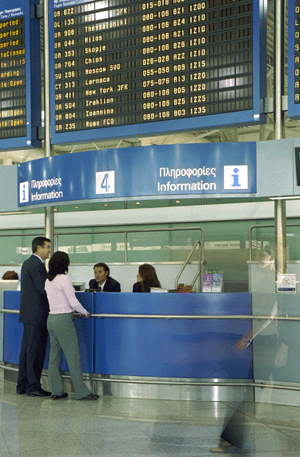 cility: banks, travel agencies, currency exchange counters, car rental desks, tourist information areas, a pharmacy, business center, and baggage storage areas. Opposite the main terminal building is a four-star hotel with more than 300 rooms, 3 restaurants, and convention facilities. For elderly and handicapped visitors the Venizelos airport poses few, if any challenges, with the installation of elevators and escalators aplenty, as well as dedicated check-in counters. And what's more, the airport is accessed from Athens via a network of buses and a new highway beginning on the outskirts of the city; many travelers can reach the airport in just a half-hour from the city.
But what really distinguishes this airport from all others, in our opinion, is that Greece has capitalized beautifully on its archaeological heritage by displaying replicas of the artifacts uncovered during excavations of the airport area. These objects date from the Proto-Helladic to the Post-Byzantine period. Passengers can see them displayed magnificently atop beautiful marble columns at the four departures-level entrances of the main terminal building. Silently, yet proudly, they herald the millennia-old, continuous Greek civilization that has given rise to the Western world.