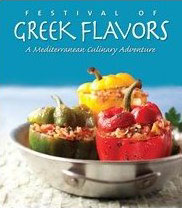 Title: A Festival of Greek Flavors: A Mediterranean Culinary Adventure
Author: Greek Orthodox Philoptochos Society of the Assumption Greek Orthodox Cathedral of Denver
Publisher: Wimmer Cookbooks
Date of Publication: 2011
Language: English
ISBN: 978-0-615-42389-0
Price: $25.95
Description: Hard cover, 4 color processing throughout, 80# paper, professionally photographed and published; 216 pages, 8.25" x 9.25".
Availability: Assumption Greek Orthodox Cathedral of Denver, Philoptochos Chapter of Denver, cookbook website [http://www.festivalofgreekflavors.com/#!], bookstores, and online vendors such as Amazon.com



Authors' Description

The women's guild created this exceptional cookbook to celebrate and promote their Greek Orthodox faith, Hellenic culture and Greek cuisine. More importantly, though, they developed it to "make a difference in our community and the lives of others." Proceeds from this cookbook will provide financial support for their sacred mission of philanthrophy. Some of the features of the cookbook include:

High quality, professionally published and photographed
Over 200 tested, time-honored, and authentic Greek recipes with culinary and entertaining tips with wine pairing suggestions.
Recipes by Greek restaurants in Colorado
Promotion of the benefits of the Mediterranean diet
Historical and cultural information about the Greek community

This community cookbook will be marketed and sold at our Greek Festival, Philoptochos chapters throughout the United States, the ladies' cookbook website, their church website, bookstores, and through major online book-sellers.

Amazon.com Editorial Review (http://www.amazon.com)

Let the Festival of Greek Flavors take you on a Mediterranean Adventure! This cookbook will let you cook and eat like a Greek, for a purpose. The cookbook offers chefs of all skill levels delectable Greek recipes that have been handed down for generations or recently modernized, and will please the palette and provide a feast for the eyes. All proceeds from the cookbook will benefit the numerous philanthropic activities of the Greek Orthodox Ladies Philoptochos Society of Denver. The more than 200-page book is a true work of art, packed with more than 175 Greek recipes and featuring stunning photography that will make it a fixture on the coffee table, not just in the kitchen. Recipes are broken into nine categories, making it simple to plan a delicious Mediterranean meal for any occasion: Breads and Breakfast, Appetizers, Soups and Salads, Pasta and Grains, Vegetables and Sides, Meat and Poultry, Seafood, Desserts and Greek Holiday and Religious Foods. The cookbook also includes recipes that take 30 minutes or less for the busy cook, wine pairing suggestions from a Greek sommelier, historical information about the recipes and ingredients as well as cultural information about the Greek community and the Greek Festival. Additionally, famed Colorado Greek restaurants have contributed secret recipes to the cookbook.



Reviews and Comments

"If you've got that handmade booklet of Greek recipes sold at Greek Orthodox festivals past, throw out the spanakopita with the baklava. This is a professionally produced, hardbound cookbook, with colorful photos and 175 triple-tested recipes — everything from Eggplant-and-Tomato Dip to Pasta With Greek Meat Sauce. [Read full review on the Denverpost.com posted June 15, 2011]---Marty Meitus, journalist, Denverpost.com

"Festival of Greek Flavors is a beautiful book full of fantastic traditional Greek and modern Mediterranean recipes. The photographs are gorgeous - absolutely mouth-watering! Congratulations Ladies - you did a job well done in creating this book. . . . "--Amazon.com patron comment

About the Authors

The Ladies Philoptochos Society is the largest philanthropic organization in the United States. It is the philanthropic heart of the Greek Orthodox Archdiocese of America, and has for over seventy-five years undertaken a multitude of philanthropic programs to aid the poor, the sick, and the elderly. Literally, Philoptochos means friend of the poor—not only poor in financial resources but also poor in spirit, poor in health, poor in companionship, poor in emotional stability and poor in whatever is needed to lead a fulfilling life. This group's local chapter in Denver has:

Distributed over $150,000 to various charities since 2006
Helped build an orphanage and bring fresh water to a village in Africa
Partnered with Families First to help in the prevention of child abuse
Renovated living quarters at Champa House, a women's transitional home in Denver
Provided financial assistance in life transforming procedures for ailing individuals
Completed many other heartwarming projects with national recognition