The Kokoras Ensemble
THE MOST EXHILARATING, HEARTBREAKING, EVOCATIVE, JOYFUL, INSPIRING MUSIC....

NOW ON TRIPLE CD

A Celebration of Greek Music in America
A Musical Extravaganza Spanning the Generations

FEATURING: Kokoras Ensemble The Greek Music Society Ensemble Fred Elias Ensemble Odyssey Orchestra The Original Grecian KeysElliniki Kompania Ta Pethia Orchestra Trio Bel Canto Journey to Ithaca Kostas Taslis Quartet


Now you can get your own recording of the most magnificent concert of Greek music in America. If you attended the concert, you'll want to hear it again and again, and play it for your friends and relatives. And if you missed the concert, these recordings are the next best thing to being there.
The triple CD with over 60 songs is a crisp, beautifully produced recreation of music from over 70 Greek and Middle-Eastern musicians who contributed their talents for this once-in-a-lifetime concert.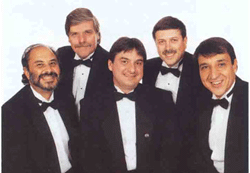 Ta Pethia
THREE EASY WAYS TO ORDER:

1. For fastest service, call 617/547-4770
2. Fax Completed Order Form to: 617/661-9150
3. Mail Form to: The Greek Institute, CD Offer, 1038 Massachusetts Ave., Cambridge MA 02138
Proceeds from these recordings will benefit the Endowment Fund of The Greek Institute