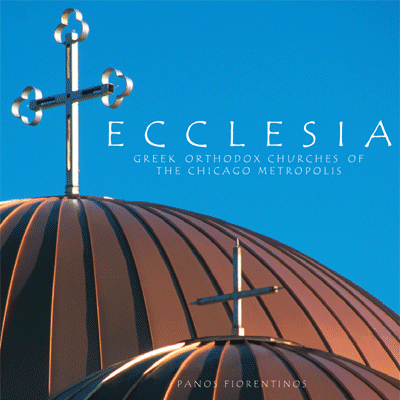 Title: Ecclesia, Greek Orthodox Churches of the Chicago Metropolis
Author: Panos Fiorentinos
Publisher: Kantyli Inc.
Date of Publication: Oct 2004
Language: English
ISBN: 0-9759782-0-9
Price: $ 79.95 plus S+H in the USA, also shipped with poster only order from author
Description: 224 pages, 11"x11", over 400 color photographs
Availability: purchase from author at www.greekchurchbook.com, avaliable at Barnes/Noble stores and online, Chicago Cultural Center, Chicago Art Institute and Chicago Architectural Foundation.


---

Lovers of art, local history, architecture, iconography and religion are awe-struck with ECCLESIA's
in-depth treatment of the legacy of these churches, many established decades and even a century ago,
and the beauty of their interiors, featuring Byzantine iconography while reflecting their modern architectural roots in the heartland of America.


In addition to stunning photography and individual church histories based on personal interviews of scores of parishioners and clergy, ECCLESIA also features essays by noted scholars and authors on topics such as fundamental Orthodox beliefs, church architecture and tradition, and the meaning of icons and symbols featured throughout this coffee-table book.

ECCLESIA is Panos Fiorentinos' photographic journey through the entire Greek Orthodox Metropolis of Chicago encompassing six states—Illinois, Indiana, Iowa, Minnesota, Missouri, and Wisconsin—containing 59 churches.

Through more than 400 of his richly-colored photographs, Fiorentinos captivates the reader with the unique beauty and rich tradition of the Greek Orthodox Church as developed in these communities over the course of more than 100 years.

Based on personal interviews with dozens of priests and parishioners, the establishment and growth of these churches are documented for the first time in one place. In addition to showcasing each of these churches through photographs and text, ECCLESIA provides context through scholarly essays on the Greek Orthodox Church's architecture, fundamental beliefs and history, as well as the meaning of its icons and symbols.

ECCLESIA also lends historical perspective about the Greeks who immigrated to the Midwest and founded most of these churches by recounting the establishment of the Greek American communities in Chicago, Milwaukee and St. Louis.

About the Author

Panos Fiorentinos was born in San Francisco, California, in 1963. As a child he loved sketching and taking things apart and reassembling them, which led him to consider a career in architecture. At San Francisco Community College, he studied architecture and art, honing his sketching and design skills, and ultimately settling into a field that fascinated him since he was young. He specialized in architectural model making, and has worked in this profession for the past 17 years. His interest in photography started as a necessity in order to show his models to potential clients. For the last three years, he has balanced producing this book with continuing to build architectural models. He lives in Chicago, Illinois with his wife, Irene.