The creation myth of the chef goes something like this. One day Zeus is on Mount Olympus playing with a lump of clay and he fashions a very handsome creature. So he pops him into the oven to bake and shows the finished product to Hera, who is impressed - so impressed she would like to date him. But Zeus is not about to let Hera have all the fun. "I'm going to present him to the Greeks/ (I haven't done them a favour for weeks)." Zeus then gets a bit carried away and promises his creation Theodore ("Gift of God") all worldly delights, at which moment Apollo turns up and throws a fit. A mortal more handsome than he? Piqued, he threatens to destroy the race of men. So Zeus, claiming it is now too late to do anything to diminish Theodore's attractiveness, condemns the poor man to a hard life down on earth running a restaurant. And that is where Theo is to be found to this day - at the Pyrofani, in the district of Kamini, on the island of Hydra. Every year, Apollo drops in to check up on Theo and report back to Zeus.

Roger Green, Parnassian amanuensis of the Pyrofani Poems, is an original bon viveur of the verse form. Taken together, these poems tell the tale of a single restaurant (in itself perhaps a literary first) over an eight-year period from 1997 to 2005. Green explains what happened: "One day, a few years ago, quite without premeditation, I read aloud there a poem that I had written.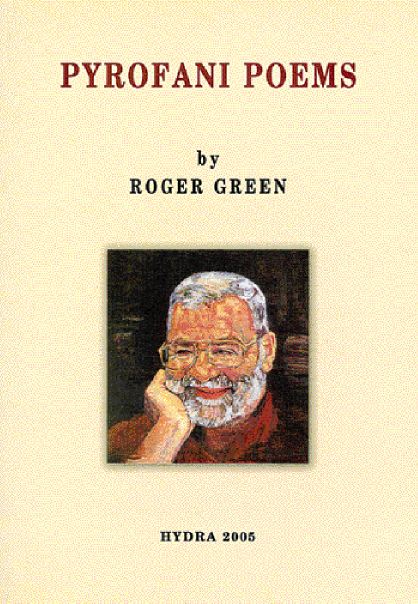 Imperceptibly, a tradition grew up that I would write and read at least two poems a year - one for the opening and one for the closing of the Pyrofani." Once established as the local laureate, he also wrote and performed other occasional poems - for fun, for birthdays, to mark important events (like the Pyrolympics 2004) and to explore a multiplicity of approaches to life (for fine examples, see the English/Greek/Hydra 'Head' series).

And, just as Zeus fashioned little Theo, so Green fashions a little world - though it does not emerge, of course, as good-looking as that Olympian creation. The same Theo Triantafyllou (also appearing as Theo Dorian Rose, the Odysseus of the Theodyssey, the True Organic Greek Sage and Sir Theodore of the Lyrical Ballad) may be centre stage in both instances but he receives rather less favourable treatment once he has arrived down here on earth. Theo can be rude, stressed, bored and fed up with cooking the same old stuff, although (perhaps when Green is a bit peckish) he can suddenly turn on the generosity and charm and perhaps even come up with a new dish. A fully rounded character, then.


Other personalities emerge and have their moment. Among them is David, the Mr Fix-it, who is always being presented with last-minute demands, a revered American Mistress of Math and a whole stream of artists (this is Hydra). Other locals also drop in and mix with the restaurant's passing trade - "various unwitting actors/fulfil their walk-on roles". Swedish and Albanian staff are to hand and, always, there are the neighbourhood cats.

The trap, in this kind of writing, is that there are too many obscure in-jokes and references to local features that will elude the outsider. In Hydra and the Bananas of Leonard Cohen (2003) Green himself took a whole book to complete (in a delightfully circuitous manner) what began, at least, as mere footnotes to "Fun de Siecle", one of the poems included in the Pyrofani collection. But, generally, footnotes are an indulgence rather than a necessity thanks to Green's narrative approach. He is at heart a storyteller. So it is interesting but not mandatory to know that "Fun de Siecle" should be sung to the tune of Leonard Cohen's "Suzanne" and that, for instance, the line "And Orpheus gathers garbage..." refers to bouzouki-playing Thanasis who drives the garbage truck.

Written as performance poems, the welter of wit, puns and parodies (psalms, the Odyssey, ballads, Leonard Cohen songs, Judge/Williams' "It's a long way to Tipperary" etc) is quite enough to keep them alive in print. Mixed up with the humour, there are occasional glimpses of a grim outside world. But the focus is mostly closer to home - the depredations of life in the winter on a Greek island, the arrival of a bunch of vets intent on sterilising the cats, Theo's delayed return to the island due to problems with his thyroid gland. And there are the visiting friends who make the mistake of thinking polite conversation is what life is about. They elicit only grunts and scowls from their host:

"Confused, they have another try:
'Can you receive the BBC?'
'Certainly not. I get my news
from Skai, One Hundred Komma Three.'"

One of the themes that is a constant in Green's work is the search for what he calls the "in-between". Living as an expatriate on a Greek island may give context, but his concept of the "in-between" runs much deeper than mere circumstances. In-betweenness, and the navigation thereof, is a way of life. "That's my recipe for success," he has written. "The problem, of course, is how to live in the in-between..." The quest for this goes on beneath the surface in the Pyrofani Poems. There is the image, for example, of the poet as spectator in Farewell to the Pyrofani Theatre.

"Who am I? Call me Sly, the Fool, an observer

Watching plays within plays within plays
(Spectator of my own name)."

Exactly what is he watching and what kind of spectator is he? It is this kind of touch (with its suggestion that the author is, despite everything, still an innocent) that points to his continuing search for the holy grail of in-betweenness.

Theo, though, has the last word on the collection. He may be portrayed as a bit of a philistine, but he evidently likes Green's poems enough to give his bard a bit of free food when he thinks the verse merits it (and he happens to be in the mood). Green tells us that Theo describes the Pyrofani Poems as a "chronicle". And that seems to be a good way to read them, one after another in order, so that their world may gradually reveal itself.

So what is the food really like? Judging from the frequency with which the Pyrofani appears recommended in guidebooks, Theo is probably a rather better cook than Apollo makes him out to be. Good work, Zeus.


---
* The 'Pyrofani Poems' is available either at Compendium Bookshop, 5 Nikodimou & Nikis, Athens (tel 210-3221248) or at the Pyrofani Restaurant, Kamini, Hydra (tel 22980-53175). Apollo has authorised Roger Green's release from Mount Parnassus to give a reading from 'Pyrofani Poems' at Compendium Bookshop on May 4 at 8pm. Award-winning Muse Alicia Stallings will join him to read from her book 'Hapax'. Nectar served

---