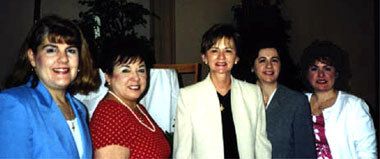 Author Marilyn Rouvelas with members of the Good Samaritan Ladies Philoptochos Society of the Greek Orthodox Church of Annunciation, Rhode Island

CRANSTON, RI -- On May 19, 2002, the Good Samaritan Ladies Philoptochos Society of the Greek Orthodox Church of Annunciation, Cranston, Rhode Island, hosted a luncheon featuring the debut of
A Guide to Greek Traditions and Customs in America Second Edition
by Marilyn Rouvelas.
Philoptochos President Bessie Papigiotis welcomed guests, and the event was chaired by Helen Quinn Argeris, Frances Ward-Smith, and Ethel Strekouras. The Philoptochos will use proceeds from the book sales to support its ongoing projects: the Ronald McDonald House,. Interfaith Food Bank, Amos and McCauley House, InSight, and many other civic charities. The Good Samaritan Philoptochos also supports two Diocesan Philoptochos Projects, the Philoxenia House in Brookline, MA and the Diocese Camp and Retreat Center in NH. All the National Philoptochos Commitments are fully supported by this Philoptochos Chapter. Some of the proceeds also go to the Greek Orthodox Church of St. George, Bethesda, Maryland, where the Traditions book is a fundraising project of the Ladies Philoptochos. Proceeds have been contributed to the Bishop George Greek Orthodox Cultural Center and charitable causes selected by the Philoptochos.
Since its original publication in 1993,
A Guide to Greek Traditions and Customs in America
has become a bestseller and a standard reference in homes and libraries around the world, selling over 50,000 copies. The new second edition includes the basic text of the first edition with its clear, understandable explanations of the traditions of Greek Orthodoxy and the meaning behind them.
Two new chapters have been added to the book. The first, "The Historic Orthodox Church," provides the history of the church, contemporary updates on each autocephalous church, and useful information on the ethnic Orthodox churches in America. The second chapter, "The Greek Diaspora" gives an overview of Greeks abroad, plus a look at the three other largest Greek Diaspora communities: Australia, the former republics of the Soviet Union, and Canada. Helpful Internet websites are provided.
A Guide to Greek Traditions and Customs in America
, Second Edition, by Marilyn Rouvelas. 411 pages, hardbound, notes, illustrations, and bibliography.
ISBN #09638051-1-8 US$30 retail.
May 2002

For information contact: Nea Attiki Press, P. O. Box 34008, Bethesda, MD 20827. www.greektraditions.org. 301-469-4733 (phone); 301-610 9524 (fax), info@greektraditions.org