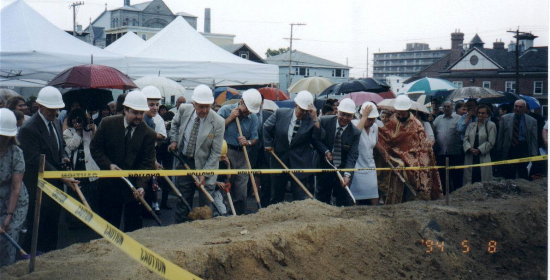 Transfiguration Church parishioners join together in the official groundbreaking ceremony for the
new building addition. Formal dedication of the addition will take place on Sunday. Sept. 28

---
LOWELL, Mass. -- The Transfiguration Greek Orthodox Church will formally dedicate its new building addition on Sunday, Sept. 28, at the conclusion of the Divine Liturgy.
The Transfiguration Family Life Center consists of new classrooms for the parish's Sunday School program, a chapel, new offices and meeting rooms, and an elevator to make the church more accessible to the handicapped.
His Eminence Metropolitan Methodios of Boston will preside over the formal dedication ceremony along with the church's pastor, the Rev. Christopher Foustoukos.
After the ceremony, the parish will host a dedication luncheon at the Indian Ridge Country Club in Andover.
Tickets at $45 for adults and $25 for children are available by calling Building Committee Chairman Arthur Faneros at 978-423-0093.