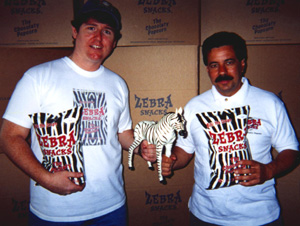 Brian O'Grady and Kostas Samiotis

ZEBRA SNACKS

Have you ever wished that the popcorn you were eating had some chocolate on it? Better yet, while at the movies, or at a ball game, did you ever mix popcorn and chocolate-covered raisins? The popcorn tastes quite good, but not as good as the ZEBRA SNACKS popcorn that talk show hostess Rosie O'Donnell raved about on one of her shows last winter. The talk host queen referred to it as "delicious" and tossed bags of ZEBRA SNACKS to the audience who were delighted by its taste.


ZEBRA SNACKS is a very light popcorn, free of any heavy, salty, buttery substance, and is lined with just enough chocolate to make each white kernel resemble its namesake, the ZEBRA. Three years ago Brian O'Grady loved the taste of mixing chocolate-covered peanuts with plain popcorn so much that he came up with the idea of chocolate lined popcorn and decided to start his own business right in his house. After strenuous research for the right type of chocolate, he began making ZEBRA popcorn samples. His family and friends and everyone who tried ZEBRA SNACKS loved the taste. With enough encouragement from his wife, Brian left his job and dedicated his time, money and effort to create ZEBRA SNACKS.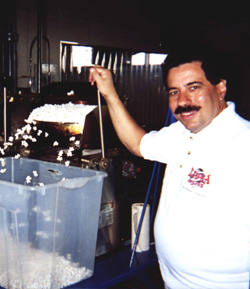 The name was carefully chosen to reflect the product and even the bags were designed to contain the face of a zebra. The plant where the product is now made is located in Boston. About six months ago, Kostas (Mr. Greek Baseball) Samiotis joined Brian in the business and with a crew of five women on the payroll they pop the corn, line it with chocolate and bag it right in their plant. It is quite amazing to see the whole process and to see the two young entrepreneurs at work! They both love what they are doing and believe in their product. "Right now it is a small company," said Brian, "but we are getting there."
"We are selling to Trader Joe's and Market Basket and we are talking to Roche Brothers," added Samiotis. "Whoever tries ZEBRA SNACKS can't put the bag down until its empty."

Brian O'Grady and his wife (the former Catherine Papadopoulos) and family live in Watertown, Massachusetts and attend the Taxiarchae Greek Orthodox Church in Watertown, MA. Kostas and his wife (the former Despina Karoutas) and family live in Wayland, Massachusetts and attend the St. Demetrios Greek Orthodox Church in Weston, MA.

For more information visit http://www.zebrasnacks.com/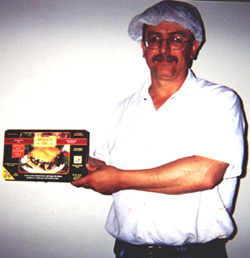 Emanuel "Mannie" Argyros


TAVERNA CLASSICS
You just got home from work, shopping or a long walk. You are starving but you are too tired to cook a big meal. At the other side of the same building in Boston that houses ZEBRA SNACKS, you will find Emanuel (Manie) Argyros who has just the solution for you. This is where Manie's company, TAVERNA CLASSICS makes SPINACH PIE (spanakopita) and EGGPLANT PARMESAN. Taverna Classics spanakopita tastes just like homemade right out of a Greek home's oven. It is
placed in a 24-oz oven-wear box designed to go directly from the freezer to the oven. The spinach filling, rich in feta cheese, unlike any other "bought" spanakopita, is wrapped in delicious phyllo dough which Manie imports from Canada. After it is baked, the phyllo takes a golden-brown color and the taste is exquisite! The eggplant Parmesan is also wrapped in phyllo dough and the filling is rich in eggplant, tomatoes and a generous supply of cheese.
Emanuel Argyros started his company back in 1993 and now employs about 50 workers. Above everything else, Manie takes great pride at the cleanliness of his plant. When we visited we were asked to wear hairnets and he mentioned that his company gets a strict inspection by the government health agencies every six months. The demand for production is getting higher: "In the summer production slows down a little, but from September till May we have to produce about eight to
nine thousand boxes daily," said Manie. "We supply Market Basket, B.J.'s, Costcos, and Shaw's. The Costco account is a coast to coast account so we ship our products even to the West Coast," added the young entrepreneur. Manie and his wife Ellen and family live in Swampscott, Massachusetts and attend St. George's Greek Orthodox Church in Lynn, MA.
Do you want to impress your family and friends at the next get-together at your home? Just serve them some TAVERNA CLASSICS SPINACH PIE and TAVERNA CLASSICS EGGPLANT PARMESAN. They will be asking you for your recipes before they leave!